Data set relevance: Market vs. Area
Overview
AllTheRooms.Analytics is a data dashboard designed for Vacation Rental Hosts to make data driven decisions on their Properties features to improve their earning based on their Market performance.
Hosts interested in finding their Market had to search their Area name in a search dropdown that opened a set of Predefined Markets where they could choose their own and then refine the data by using filters.
The Problem
Due to the way the data was stored in our data base we could only offer areas by search for specific polygons and any new areas were queried manually by the data team. This process took about 24 hours to be ready for the user—an extremely cumbersome experience that resulted in almost a 60% drop off when users couldn't find their area/market
Goals
User: Get data no matter the area they're located in.

Business: Increase engagement and retention of hosts

Product: Make time for finding a way to store data in a more comprehensive way.


Research
In an effort to remove this high friction point for our users, our team launched a Competitor Tracker tool in the app which followed a different approach of how to find a Market, basing the Market by Property and not by Area.
Determined to make the new Competitors feature work the way users want, we conducted one round of user testing — with a high fidelity prototype.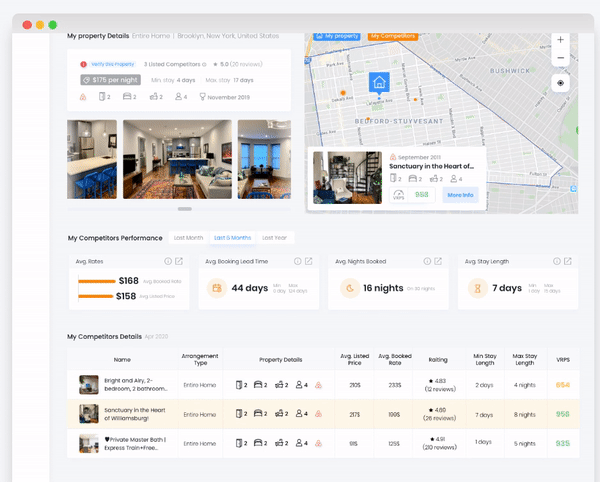 Play with Adobe XD prototype here
I was the main designer working on this new feature in Summer 2020 with a team of product managers and five engineers.
Defining a Market for a user can be more complex than it seems. In the Prototype customers are shown a Competitor Set based on properties similar to theirs. However 6 out of 6 users complain about not trusting our selection since the way they selected their competitors was based on several logics and it could be as specific as not considering a Property a competitor for allowing guests to smoke.
Complex challenges like this were among several identified during user research sessions, and validating this before implementation was key to our short three-week turnaround.
MVP - How it works?
Upload your Listing
Copy and paste listing URL and we locate your listing instantly.
Hand picked Competitors
Hosts have the possibility of selecting their competitors by clicking it on the map, they're shown their property location on the map and all the competitors around them and they can select up to 5 competitors.
Outcomes
Since its launch on September 15 2020, Competitive Intelligence have, on average, the highest average time on site of over 5 minutes of use versus 1:30 mins in main app.
As well, Competitive Intelligence has doubled the amount of returning users. 40% of users that successfully added a property return the next month.

On a weekly basis, between 20 and 30 users add their properties to the Dashboard.

Having users with properties added on the Dashboard opened the possibilities of retargeting campaigns and Push Notifications
What would I change?
Instead of adding feature as a new tool I would have liked to added it as a Feature for the first screen the user sees. While initial iterations had the concept of a dashboard in its own, the final outcome was very simplified and it could have complemented the rest of the Market Data and we could have the possibility to get it in front of more users in order to learn more.
We also had trouble identifying all the data gaps that having Listing level data could give us (i.e. properties without bookings but still on the Market), this made the process of Property Selection frustrating for the users since COVID a lot of properties were showing no data.
In future iterations I hope we can have a way to try all the specific scenarios that data give us before launching so we can think the best way to show this to the user.
BTW: a version of Competitive intelligence is now part of the main user flow in ATRA check it out here