First Impressions - Alltherooms
I was the main designer leading this project in Q2 2022 ideating early concepts, running user research, presenting regularly to leadership, and delivering final assets for production. I worked with multiple cross-functional teams that included 1 product manager, 8 engineers, and leads from Marketing and Sales.
Project Summary
When thinking about investing in a property to operate as short term rental (airbnb, vrbo), a short term rental investor uses platforms like Alltherooms for accessing historical short term rental -performance data in order to evaluate that market against the cost of operating a short term rental.
The information presented in this screen provided users with a snapshot of the Market, however during user research study it was ruled as confusing, as several users complained about not being sure of what they were looking at, resulting in lack of interaction and users losing interest in the platform.
The redesign of the first impression screen serves to better match the user's mental model of evaluating relevant information to reduce cognitive load at the moment of tool onboarding. This initiative will also allow Alltherooms to reduce the amount of data loaded at first which will help with the app performance in the future.
The Problem
During a round of User Research for exploring user journeys on the platform, we've identified how users struggled to understand what they were looking at due to an extraneous and unprioritized overload of information.
Users don't feel confident about the information they see and finally finding the key data they were intended to get, required a significant amount of time and digging around.
Business Problem
Because users are struggling to find relevant information, this leads to:
Costly interactions: increase of users frustration when they have to spend time comprehending information presented only to realize is not possible to customize it as they needed it and have to click around to find the customization.
User Goal:
We want to provide users value in a timely matter to quickly learn and evaluate metrics without figuring out how to use the platform, while optimizing usability.


Business Goal:
We want to ensure the value and competitor differentials are displayed to the users as soon as they land in the site. The primary metric we'll be looking at is conversion rate (time to accept) with the guardrail metric of time to convert.
Design principles
Efficiency of use: Prioritize the content and features to support primary goals.

Learnability: Users' ability to understand and use the interface with no prior knowledge or formal training is critical

Speed: our solution should not affect loading times, since is the user first impression we need to have the same performance we had in the past

Progressive disclosure: Offer a larger set of specialized options upon request. Disclose these secondary features only if a user asks for them, meaning that most users can proceed with their tasks without worrying about this added complexity.
New System


Relevancy, Simplicity and Efficiency remain top of mind for users when accessing seeing Alltherooms for the first time.
Relevancy
focus on information that match user's queries
Remove Data Digest: to avoid cluttering users with excess of repetitive non core information at a first glance

Improve Historical Data visibility and communicate its relevance to users by moving it above the fold

Filter side sheet: Decrease size and color in order to give make it more of a secondary action in the screen
Simplicity
Decrease the number of choices users have to make before accessing information
Metric Selection: Highlight important attributes at a glance

Move metric chips to a global navigation to match users mental model (find metric - select timeframe)

only display ADR, Occupancy and revenues by default

categorize the rest of the metrics as an 'advanced feature'

Chart Settings: group granularity, percentiles, download under the same level of priority to increase intentionality of use and make all of them unselected rather than preselected everything at a glance.

Time selectors: Help users better understand how much historical data can they access without having to click on anything.

Percentiles: Change color to dark gray to help with accessibility

Statistics date range: Reduces cognitive load for users to do mental calculation of what dates are they looking at.
New Experience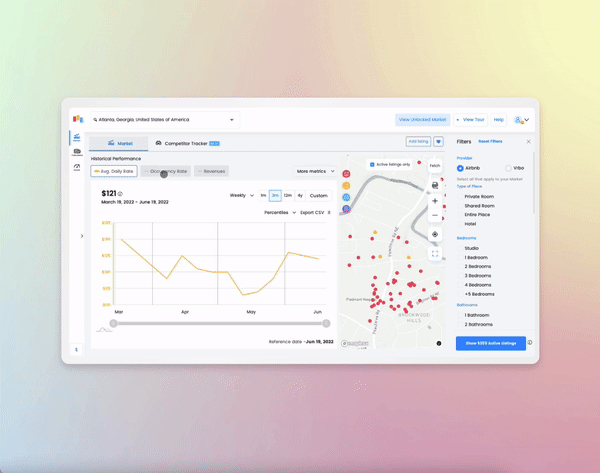 After Math Usability testing
UX Research report: Historical data usability testing We run a moderated usability testing with 7 users (new users):
Objective: Evaluate the overall usability of the new UI
We had 12 tasks that prompted users to interact with the feature and try to find out a specific answer, while we observed.
Results:️The overall usability of the tool was successful having a score of 104/119 of task completion.
With the redesign, users more quickly understood the value of Alltherooms, especially with the time frame selector that allowed them to quickly evaluate how much time they could access.